Sorry, WRX-137 at present sold-out!
WRX-137
Weather Satellite Receiver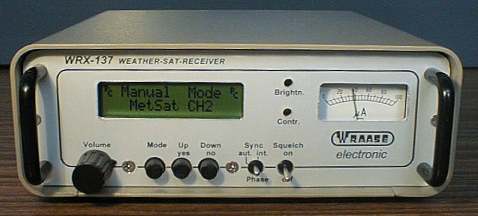 Small in size and lightweight hight-performance receiver in professional quality.
Two versions are available:
(1) WRX-137P with built-in decoder for the PROsat software system.
(2) WRX-137S without PROsat-decoder, ready to feed soundcard software like WXTOIMG.

Common features: In "automatic mode" the receiver channels and modes are automatically set by the PC software (PROsat, WxToImg and others) and satellite passes are recorded automatically without user intervention. In addition to the automatic PC-controlled operation the WRX-137 offers several other modes. It can be operated manually from the front panel pushbutton controls: The LDC-panel indicates modes and frequencies and there is a high-quality illuminated panel meter indicating signal strength and a built-in loudspeaker, volume control and automatic squelch. In the scan- and programmable scan-modes the satellite channels are continuously checked for the presence of a satellite signal. Only when the specific satellite signal is recognized, scanning will stop as long as such signal is present. All is housed in a robust yet attractive fully shielded metal case. The receiver has two separate BNC input connectors, one for the VHF-antenna, the other for a downconverter (geostationary satellites). Switching is done automatically depending on the selected mode. There are five preprogrammed satellite channels including both new NOAA-18 frequencies. Any other frequency in the range from 134 to 141 MHz can be selected by the frontpanel "up-" "down-" pushbuttons (10 kHz spacing). The receiver and synthesizer is microprocessor controlled and its features and/or frequencies can be modified by means of future firmware-updates.

WRX-137 frontend selectivity in conjunction
with preamplifier/filter AA-137 (KX-137/MX-137)

Available modes:

Manual Mode: Manual selection either of the fixed frequencies or any other frequency in the available range from 134 to 141 MHz..
AutoScanMode: Continuously scans the 5 fixed satellite frequencies and stops when a satellite signal is detected (does not stop on other signals).
ProgScanMode: Scans only preselected fixed frequencies.
PC-Control: Frequency channels and modes are controlled by the PC.
Note: Modes are not exclusive: Manual operation is possible during PC-control with priority for PC-control signals.


600 Channel-synthesizer-receiver, douple conversion.
PLL-Demodulator, AFC +/- 20kHz
10kHz channel spacing, AM-Demodulator für APT,SDUS (not in WRX-137S)
High-Speed 8-Bit-AD-Wandler: 4800 Samples/sec (not in WRX-137S)
Serial PC-port 57.6 kbaud
Hi-Q Input filter: < 5dB/3MHz und > 50dB/20MHz
Power supply: 12V - 15V DC, ca. 200mA (internally regulated)
Size: ~ 180mm x 180mm x 65mm, Weight ~ 1,1kg
Audio-output (2400Hz Subcarrier) Cinch-connector, level adjustable.
Contrast- and brightness controls (not in WRX-137S)
IF bandwidth 35kHz
Manual phasing (not in WRX-137S)
METEOSAT WEFAX reception with optional downconverter.



PPL-Oscillator signal: Spectral purity.
---
---
MS-DOS, MS-Windows, Windows 95, Windows 98 sind eingetragene Warenzeichen der Microsoft Corporation
© Copyright 2006 by WRAASE electronic